ToolGuard™
---
When it comes to merchandising power tools in hardware stores, there's often a conflict between creating an attractive display that's interactive and tactile for customers while still protecting these high-ticket items from theft. With power tool theft on the rise, there's never been a better time to secure your store's most valuable items with the help of RTF Global technology. 
RTF Global's ToolGuard is an adaptable anti-theft device designed specifically for power tools and available in a range of useful configurations for various tools. Safeguard your most valuable items while still allowing customers to touch, hold, and handle the tool, boosting your sales. ToolGuard is suitable for any need, budget, or type of tool. 
ToolGuard is the premier power tool security device, leading the way for loss prevention devices worldwide. 
Get A Quote
Power Tool Retail Security Device That Adapts to Virtually Any Tool
Typical store displays simply aren't equipped to securely display power tools, and other anti-theft solutions often use crimped steel cables with sharp edges that are both ineffective and a safety concern for customers.
ToolGuard is a purpose-built, customizable anti-theft display that secures high-value power tools and integrates seamlessly with all types of displays. Versatile and tough, it can be modified to fit virtually any type of tool, regardless of size, shape, and length.
With customizable options for pegboard, Unistrut, slatwall, and gridwall displays, ToolGuard provides tethered security, deters theft, reduces shrink, and allows for a high level of customer interaction in one convenient package. ToolGuard's easy installation and clean design blend into your existing displays, so the focus is always on your product selection.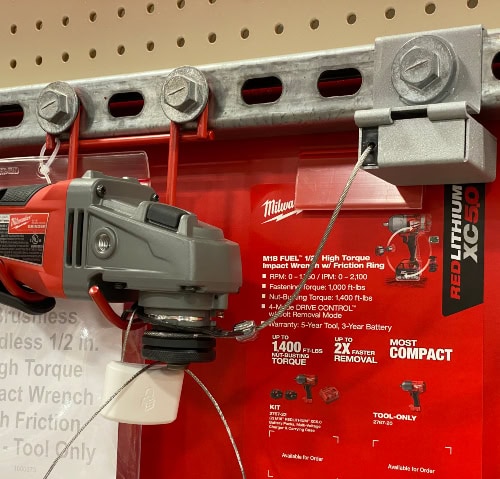 Key Features of ToolGuard
RTF ToolGuard is equipped with a range of useful, customizable features that help you dramatically reduce shrink while providing the interactive experience customers expect when shopping for power tools.
Seamless fixture integration
Adaptable and compatible with virtually any power tool
Allows customers to touch and hold tools while remaining secure
Available in silver and black options to match existing displays
Available with alarming options for added security
Simple, hassle-free installation
Tools Compatible with ToolGuard
The RTF ToolGuard is designed for compatibility with a wide range of power tools, including:
Power saws
Power drills
Impact drivers
Fastening tools
Grinders
Sanders
Rotary tools
And many more!